"Nicotinamide Mononucleotide (NMN) Supplementation Promotes Neurovascular Rejuvenation in Aged Mice: Transcriptional Footprint of SIRT1 Activation, Mitochondrial Protection, Anti-Inflammatory, and Anti-Apoptotic Effects"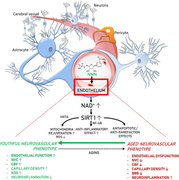 "We identified 590 genes differentially expressed in the aged neurovascular unit, 204 of which are restored toward youthful expression levels by NMN treatment.
The transcriptional footprint of NMN treatment indicates that increased NAD+ levels promote SIRT1 activation in the neurovascular unit, as demonstrated by analysis of upstream regulators of differentially expressed genes as well as analysis of the expression of known SIRT1-dependent genes.
Pathway analysis predicts that neurovascular protective effects of NMN are mediated by the induction of genes involved in mitochondrial rejuvenation, anti-inflammatory, and anti-apoptotic pathways.
In conclusion, the recently demonstrated protective effects of NMN treatment on neurovascular function can be attributed to multifaceted sirtuin-mediated anti-aging changes in the neurovascular transcriptome.
Our present findings taken together with the results of recent studies using mitochondria-targeted interventions suggest that mitochondrial rejuvenation is a critical mechanism to restore neurovascular health and improve cerebral blood flow in aging."
Conclusions
"In conclusion, rescue of cerebromicrovascular endothelial function and neurovascular coupling responses in NMN-treated aged mice are accompanied by marked anti-aging changes in the neurovascular transcriptome.
We hope that our findings will facilitate future endeavors to uncover the mechanistic role of neurovascular NAD + depletion in brain aging and the pathogenesis of VCI. The recently appreciated complex role of NVU dysfunction (ranging from impaired neurovascular coupling to blood-brain barrier disruption) in neurodegenerative diseases and VCI supports the concept that pharmacological treatments, which maintain neurovascular health, promote brain health (Kisler et al. 2017; Zlokovic 2010, 2011; Csipo et al. 2019a, b; de Montgolfier et al. 2019; Farias Quipildor et al. 2019; Fulop et al. 2019; Sorond et al. 2019; Sagare et al. 2013).
Potentially, NAD + booster treatments (e.g., in combination with STACs) could be harnessed for development of new pharmacological approaches for neurovascular protection for the prevention and treatment of VCI and neurodegenerative diseases in older adults."
https://sci-hub.se/downloads-ii/2020-02 ... 0165-5.pdf