Hopefully drkris69 this answers your question...
Spermidine is the most abundant polyamine in the body, and is essential for tissue regeneration, cell growth and cell proliferation. Spermidine is also critical to the processes involved in controlling apoptosis, learning and memory, and binds to and stabilizes RNA and DNA, modulates enzyme functions, preserves and enhances mitochondrial metabolic function and respiration, and has anti-inflammatory properties and antioxidant functions.Spermidine is also a natural inducer of autophagy, a cytoprotective self-digestive process that assists in removing and recycling damaged and potentially harmful cytoplasmic material that otherwise would accumulate during aging, and is key to health and longevity.Spermidine is naturally found in foods such as green peas, chickpeas, cauliflower, broccoli, mushroom and mango in amounts ranging from 25 to 90 mg/kg. Amounts in cheddar cheese, soybean and wheat germ range from 200 to 250 mg/kg. The majority of spermidine in standard diets comes from whole grains, apples, pears, salad, vegetable sprouts and potatoes.
The average person is estimated to consume approximately 10 mg per day, though this varies from around 7mg to 25mg or more, with the highest amounts present in the Mediterranean diet, often associated with good health and longevity.A large human study published in 2018, conducted on 829 people over a 20 year period, found that people with a diet rich in spermidine had an increased survival rate equivalent to 6 years over those with less dietary spermidine.
The study analysed 146 nutrients, and found spermidine to have the strongest link of any nutrient to increased survival.
These findings were independently validated in a second study, with the diets and mortality of 1,770 healthy unrelated people analysed .
This corroborates previous studies that found spermidine supplementation significantly increased lifespan in yeast (40-150%), worms (10-15%), flies (15-20%) and mice (10-25%).Tissue spermidine concentrations decline with age, which may in part be due to a decline in the biosynthetic activities of polyamine-producing enzymes as they become less efficient. Interestingly, the age-related decline in spermidine levels doesn't occur in naked mole-rats, that live 10 times longer than other rodent species of the same size.It has been theorised that because the body produces sufficient spermidine during youth, but not in old age, that spermidine evolves to the status of a vitamin and should be supplemented for health maintenance.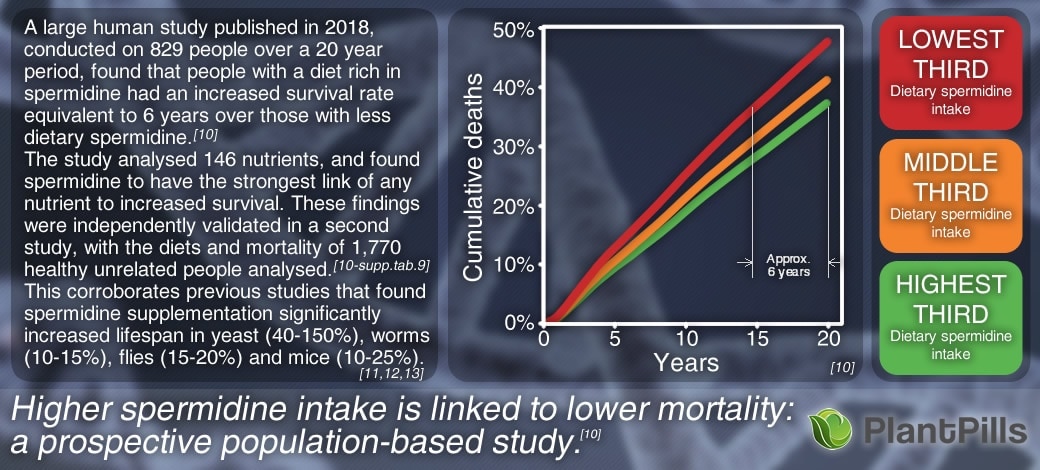 10    Higher spermidine intake is linked to lower mortality: a prospective population-based study
Stefan Kiechl, Raimund Pechlaner, Peter Willeit, Marlene Notdurfter, Bernhard Paulweber, Karin Willeit, Philipp Werner, Christoph Ruckenstuhl, Bernhard Iglseder, Siegfried Weger, Barbara Mairhofer, Markus Gartner, Ludmilla Kedenko, Monika Chmelikova, Slaven Stekovic, Hermann Stuppner, Friedrich Oberhollenzer, Guido Kroemer, Manuel Mayr, Tobias Eisenberg, Herbert Tilg, Frank Madeo, Johann Willeit
The American Journal of Clinical Nutrition, Volume 108, Issue 2, August 2018, Pages 371–380,
https://doi.org/10.1093/ajcn/nqy102
https://www.clinicaltrials.gov/ct2/show ... w=2&rank=1
11.   Induction of autophagy by spermidine promotes longevity
Eisenberg T, Knauer H, Schauer A, Buttner S, Ruckenstuhl C, Carmona-Gutierrez D, Ring J, Schroeder S, Magnes C, Antonacci L, et al.
Nat Cell Biol 2009;11:1305-14.
12.  Spermidine Prolongs Lifespan and Prevents Liver Fibrosis and Hepatocellular Carcinoma by Activating MAP1S-Mediated Autophagy
Yue F, Li W, Zou J, Jiang X, Xu G, Huang H, Liu L.
Cancer Res 2017;77:2938-51.
13.  Cardioprotection and lifespan extension by the natural polyamine spermidine
Eisenberg T, Abdellatif M, Schroeder S, Primessnig U, Stekovic S, Pendl T, Harger A, Schipke J, Zimmermann A, Schmidt A, et al.
Nat Med 2016;22:1428-38.